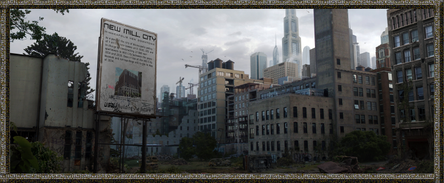 This arena is essentially a small abandoned city, overgrown with vegetation and some of the buildings crumbling in decay.
Located in the middle of the arena is a small abandoned park, with a pond
This arena has all the typical things you'd find in an abandoned overgrown city, everything from flat surfaces to small buildings to tall skyscrapers, some crumbling, some still standing, lots of dark places to hide, including an underground subway tunnel. There are abandoned cars, and things can still be found within the buildings, perhaps even a few stray cats or dogs, or some smaller creatures such as rats and spiders.
The arena is open to the sky and elements
This arena also possesses a more rural arena, possessing large mansions, estates and houses.
Pre-Fight
Posted on 20:22, May 4, 2015 (UTC)

Leon trod carefully and purposefully into the arena - every move he made was calculated and he took a mental note of all the debris around him, trying to formulate a use for them if need be. Leon was clad in a lightweight chest piece, arm and leg gauntlets. Underneath, he wore a plain white long-sleeve t-shirt with jeans that were loose enough to avoid any restrictions. His celestial bronze sword, in it's mist form of a compass, was in his left jean pocket which his hand hovered over. In the boots he wore there would be a few knives as backup weapons.

Birthplace
Dresden, Germany

| | | |
| --- | --- | --- |
| " | Creativity is intelligence having fun. | " |
Judging
Since Opal/Nerdy did not reply to Leon/Evil's challenge, Leon/Evil win the challenge.

Brocky Good morning, Miss Goode! ❤ 27,543


Community content is available under
CC-BY-SA
unless otherwise noted.