Arena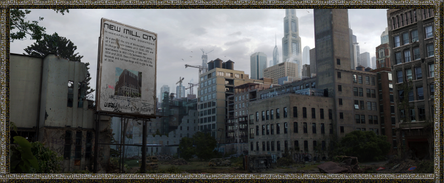 This arena is essentially a small abandoned city, overgrown with vegetation and some of the buildings crumbling in decay.
Located in the middle of the arena is a small abandoned park, with a pond
This arena has all the typical things you'd find in an abandoned overgrown city, everything from flat surfaces to small buildings to tall skyscrapers, some crumbling, some still standing, lots of dark places to hide, including an underground subway tunnel. There are abandoned cars, and things can still be found within the buildings, perhaps even a few stray cats or dogs, or some smaller creatures such as rats and spiders.
The arena is open to the sky and elements
This arena also possesses a more rural arena, possessing large mansions, estates and houses.
WBs
Zeta DeWitt - Daughter of Ares
the determined learner • little warrior princess • lt. counsellor
-a really strong woman accepts the war she went through and is ennobled by her scars
Demigod

Ares

21
SPECIES
GODPARENT
AGE
Married to

Beau

Homosexual
Sword
RELATIONSHIP
ORIENTATION
WEAPON

Son of Ares | Head Counsellor

Message Me

~ 21:17, November 11, 2017 (UTC)
Pre-Fight
Zeta: Her spear firmly in her hand, Zeta was preparing herself mentally, and physically to some extent. This was no doubt going to be a tough fight; Ryder has been around for much longer than she has and most likely is far better than her, but she has some confidence in herself.
Ryder: Ryder walked into the arena with a smirk on his face. He was nervous - it was his first counsellor challenge and he hadn't been this nervous since his own challenge years back - but Zeta didn't need to know that and if he could fake being cocky then he'd give it a go. On a quick glance, he had no weapons visibly on show; his two swords were still in their mist forms of his earrings and a small dagger was in the inside of his boot. He had made sure before entering the arena to remove the backs of the earrings, that way he would simply be able to pull them out and get to using them without the hassle of removing the backs. He preferred this as it still gave her the notion that he would be getting his weapons but it would speed the process up for him, allowing him to getting to strike sooner. Speaking of his appearance, he was clad in a long-sleeved shirt with skinny jeans that were just loose enough to give him mobility. He wore a leather breastplate, nothing fancy but enough to keep him protected. He wore leather gloves with the purpose to just avoid his hands getting worn from wielding his swords and, likewise, wore a leather set of vambraces. Sticking with the leather theme, he wore leather shin pads. Although leather, he believed it gave him a sufficient amount of protection against any initial attacks. He wore some boots that ended just below his lower-shin. They were worn in but had enough structure to them to not be falling apart. He stopped and looked around for her, wanting to at least wish her good luck.
Zeta: At last, her eyes met those of Ryder. She didn't see any visible weapons on him; it has her minorly concerned since he more or less will know that she has a spear and she has no clue what he has, so... it might be a setback. But she shows nothing of her concern. She too is very lightly armored, to retain some protection, yet nothing that will slow her down, since mobility was somewhat crucial. She approaches Ryder, a neutral expression on her face, as she offered a hand. "Good luck, half-brother. May the better one of us win."
Ryder: Ryder's momentarily disappointed that he doesn't see a big enough reaction from her, but he can only hope the lack of any visible weapon on him does make her somewhat worried. He noted that she held a spear, knowing that creating distance between the two would be hard. He takes her hand with one of his own and shakes it with a curt nod, "Yeah, may the better one win and may the other one not be too salty. Good luck."
Fight
Zeta: As the two had shaken hands and wished good luck to each other, Zeta, without doubt, stepped back to take a combat ready stance, before she decided that perhaps the fact that Ryder didn't seem to have his weapons handy could give her a first strike chance, so she attempted a thrusting move with her spear.
Ryder: Likewise, Ryder took an instinctive step back to ready himself in a more defensive position. He figured that by not having any weapons out that Zeta would likely make the first move - something he wanted to prepare himself for. Seeing her thrust her spear towards him, Ryder lifted his arms into an X shape to attempt to block it. He could hear the damage the one blow had done to his vambraces, but he tried to ignore it. In a swift motion, though the actual action of him pulling an earring out of his ear would give her sufficient time to get another blow in on him, he pulled one earring out, revealing his sword. Cockily, he smiled as he raised an eyebrow challenging, changing his stance to be more offensive as he took a few steps forward, sword poised for an attack.
Zeta: So he was armed. She didn't see that coming. She takes a few steps backward, defensively, holding her spear close. Her expression challenging, she decides to take a risk and attempt to dull his sword slightly, as to reduce the potential damage she'd take if he were to strike.
Ryder: The few steps backwards she took spurred him on to take some more offensive steps. He raised his sword to deal a blow to her, one that would aim to disorientate her enough for him to make some ground into the overgrowth of the city. When doing so, he noticed her challenging expression and deduced that she had a plan of sorts. Although not knowing what she had planned to do, he continued with the attack for it's aim was to confuse her, knock her over almost as opposed to doing serious harm. He swing his sword, aiming to hit her chest plate or another bit of armour, mind already wandering to how he'd use his powers.
Zeta: The attacking move was to be expected, and in an attempt to defend that first blow, she raised her spear to try and stop him from disorienting her. It was a very narrow block, but no doubt a block. The second attack caught her though, and she tries to deflect, but she took damage on her chestplate. It's not quite as much as it could have possibly been, but it was still a rough blow no doubt. However, now she chose to press on the offensive, thrusting with her spear, before attempting to strike his shoulder with her spear's rear end.
Ryder: It was obvious he was pleased with the knock to her chest plate; it took away the disappointment of missing the first attack, albeit lightly, and helped him to become cockier. It was his complacency that caused him to be hit by her first spear thrust, knocking him back a step or two, surprised at the power, that much was clear by his change in facial expression. He managed to miss the second, shoulder strike, mostly because he had been sent back slightly. In a fit of panic, and wanting to create some distance between the two, he clapped his hands the best he could whilst still holding on to his sword, sending the shock-wave out. It wasn't as strong as it usually could be, mostly because one of his hands was occupied, but it would be enough to make her feel uneasy on the ground she was standing on and that was what he wanted. As soon as he had clapped a sufficient amount, he turned and ran in the direction of some densely packed buildings, wanting to slip down an alleyway.
Zeta: Zeta felt the effect of the shockwave, feeling quite off balance for the moment it endured. She dropped a hand to the ground to keep herself from completely losing her bearings. When she looks up to see Ryder running towards the buildings, she had this feeling that he was planning something which may not end well for her, so she took a great leap in his general direction, and tried to land in an open street ahead.
Ryder: Ryder didn't really care what she was doing as he ran; he aimed to create as much distance as he could between them and try to lose her for a short time. And, when he didn't hear any movement behind him, he was confident enough to slow down his pace as he made it onto a large road. Any confidence he had was shattered quickly as she jumped in front of him, a light tremor causing him to fall to the floor, scraping his calves slightly. In a bit of panic, he began to kick at the ground before him, sending up a cloud of dust and other such things up in the air, aiming to disorientate him. Getting up quickly, he used the same power she did to jump into a window on the second floor of a building beside them. He didn't care if she saw him, he just needed a second to be away from her to summon his second sword. Now in the shadows of the building, he took out his second sword and realised that the first was dulled. He sharpened the blade again, knowing it wasn't necessarily needed but he didn't want to take the chance. Figuring that she could've followed him, he stood in the corner of the room where he was, for the most part, covered by shadows, ready to attack if she came up.
Zeta: That was admittedly the landing she wanted, but when she glanced around, she missed that he jumped upward into a nearby building. She does a double take on the surrounding area for a moment; surely he doesn't want to confront her directly or he's stalling for time. At least, those are the possibilities in her mind. She debates taking the risk of crashing through the buildings one by one, but that wouldn't work out if she picks the wrong building. Instead, she opts for something different; to try and draw him out somehow. She begins to clap her hands hard and fast, her aim being to shake the area up just a bit.
Ryder: He had wholly assumed that she saw him and had followed him so to not hear or see any movement for a few seconds threw him off. Not in the sense that his whole plan had to be re-evaluated, but enough for him to be unnerved. He only just about heard the echoes of the claps before he felt the tremor. Wobbling, he dropped one of his swords, the sound of it clashing against the floor resonating through the building and, presumably, outside. Picking up his sword, he inched closer to the window he had jumped in, unaware of where she was. Whilst he didn't get to the edge, he was close enough that if Zeta was to look, there was a high chance of her seeing him. Putting down one of his swords momentarily, he reached into his boot to get his dagger before throwing it outside the window. He didn't aim to hit her, just for the knife to whizz past her and confuse her on his whereabouts. If it hit her that would help him, but he wasn't bagging on it. As soon as the dagger left his hand, he picked his sword back up, arming them in a more offensive position, ready to leap out of the window and unleash a flurry of attacks to deter her.
Zeta: Zeta glanced around after that, not quite looking upward until Ryder's dagger narrowly whizzed by her head, probably catching a small few hairs of hers. She then glances upward with swiftness, looking around a little bit, before a small glint caught her eye. It was enough to give her a rough idea of where Ryder was, and so she chose to be a small step ahead. She took yet another leap, this time higher up and into a window on the third floor of the same building Ryder was in, as to hopefully surprise him by closing the distance from an unexpected angle.
Ryder: Watching intently, Ryder was pleased to see that the dagger did what it intended to do; cause a distraction. Albeit the distraction was just momentarily, it was enough for him to be satisfied. Due to watching so intently, he saw her jump and concluded that she was above him. He didn't know where above him, he just knew that she was above him. Knowing he had to go on the offensive, he let out a war cry to install fear into her before taking to the stairs that connected them, bounding into the room with his swords raised. He looked around for her, not sure on where she was. He knew from his cry that she'd be avoiding him at the very least, allowing him to begin to walk about offensively, both of his swords raised, poised ready for an attack.
Zeta: The war cry send deep chills down her spine, in fear more so than anything. She'd try to breathe slowly, in an attempt to ease herself, as she held herself tight. When she eased herself a bit, she chose to call forth for civil justice, in an attempt to buy herself some time.
Ryder: The civil justice did make him lose the will to fight momentarily, for technically he was the one in the situation initiating it. He snaked off into the corner of a room, not sure on where she was but his plan didn't call for him needing to know. Summoning a group of five skeletal warriors from the losing side of one of Athens vs Sparta's many battles, he unleashed them with the simple command of finding and attacking Zeta. He stayed in the corner, hopefully out of sight, as he was drained of his energy. The skeletal warriors would roam around the room, probably finding Zeta at some point, but they were slow. Ryder made sure that, whilst he was in the corner, he took up a defensive position that could be used to fend off Zeta if she should come close and attack him, though he didn't know how likely that was for as long as he had one skeletal warrior in his control, he could use it to distract her and, currently, he had five, so he wasn't too worried just yet.
Zeta: Thankfully, she had enough time to regain herself before the skeletal warriors found her. They put up a fight, but Zeta did no less of her own, handling the situation well enough, but not enough to prevent some bruising here and there. Once they were dispatched, she backed up against the wall to breathe for just the moment. She then chose to close her eyes for a moment as she called forth a pair of French soldiers from the Seven Years' War. She commanded them to search for Ryder and attack him if they should see him. However, she instructed them to open with a volley from their flintlock pistols, before they switch to their swords, in the event that they find him.
Ryder: Happy to hear the sound of swords clashing as an indication that his skeletal warriors had found Zeta, Ryder controlled them to simply injure her at whatever the cost. Whilst he didn't hear the summoning of her own skeletal warriors to begin with, their enticing shots of their pistols were what worried him. Having no skeletal warriors left meant that not only did Ryder have his energy back, but it also meant that she was the one summoning the warriors and subsequently she'd be losing energy. Biting the bullet, he charged at the two warriors as soon as they came into his view, destroying them with somewhat ease. He did get some scrapes in the process; for while he was proficient with his swords, a complacency had developed after not being challenged for so long, thus allowing the warriors to get a couple of hits on him. Initiating his immunity to all physical attacks, he made his way around the room, both swords poised offensively with the aim to find Zeta. It'd take him a while but the telltale signs of her spear glinting in the small amounts of sunlight that entered the room gave him some knowledge of where she could be. "It's not fun if you stay in the shadows," He called out cockily, intended to call her out of her hiding place for he believed he was in the best position; immune to all physical attacks, knowing she wouldn't know that, and poised with his double swords - an addition that aimed to deter her from launching herself at him.
Zeta: Zeta breathed a little harder, gritting her teeth a bit violently even for her. It wasn't incredibly obvious, but she was focusing intensely on her violent desires in life, drawing power from them before transforming into an embodiment of war. She let out a fierce war cry, in gaining her newfound - albeit temporary - power.
Ryder: Ryder had trained himself with the power, he knew what it could do but he never once had felt it's effects himself. That, paired with the war cry she let out, caused him to feel weak, doubting himself when he otherwise would be sure-minded and tactical. Knowing there was nothing he could do, not really, he let out his own war cry, aimed to at least curb Zeta's strength. He backed away and, in an attempt to by himself some time, created the illusion of massive bloodshed, aimed to cause Zeta to panic. Whilst being pressed against the wall wasn't his preferred place to be at the current moment in time, it was more favourable than being out in the open. He knew that because the power she was using was so short in it's usage, if he could make sure that most of that time was spent with her feeling doubt and panic, then he'd be able to miss the brunt of any attack she laid on him.
Zeta: Ryder's war cry had done something, since Zeta cringed just a bit, but the illusion of bloodshed had her thrown off for the brief moment. She shook her head a bit, before attempting to charge through the walls, instead of using the door, because she had little time, and she needed to make the most of it before she falls weak.
Ryder: Knowing the end of the allocated battle time was near, Ryder remained cautious as he walked around the floor briskly, swords raised for an offensive defence. He didn't know where Zeta was initially but she happened to collide into him as she went through the walls. Blown back by the action, he scrambled to his feet, aching massively. Now seeing that he was at a disadvantage in three ways (being hit by Zeta, feeling sore and still being drained somewhat by the summoning of the skeletal warriors), he didn't have anything to lose and charged at Zeta, raising both swords to clamp down at her in an X-fashion. Knowing it was futile because she was immune, he at least hoped it would deter her from trying anything when she returned to her normal state.

---
Zeta: She attempted to resist, but it was of no value, for she reverted in that mere moment, falling on her knees, before falling to her side, and rolling over, clearly too drained to even move a finger, breathing slowly as the allotted time for the battle concluded. It was a tough fight, she'd give that much. In between her breaths, she slowly managed to get out "Well... fought... half-... brother."
Ryder: With the bell ringing out to signal the end of the battle, Ryder watched as Zeta fell to the floor. He wasn't sure whether or not to offer her a hand up, probably knowing that she'd much rather prefer to lie down and take a break. He nodded, a smile coming onto his face as he laughed lightly, "You too... Do you want some help getting back to the cabin?"
OOC
OOC note: Oli said it was okay if Zeta saw the glint of Ryder's swords. Just for a small reference :)
Feel Your Heart Beat ~Sophie
Judging
Judge
Defender - Ryder
Challenger - Zeta
Points Possible
Hyu

Grammar/Spelling - 4
Defensive - 8
Offensive - 8
Fairness - 17
Balance - 7
Strategy - 4
Creativity - 12
Effective Char Use - 16
Judge's Discretion - 5

Grammar/Spelling - 3
Defensive - 6
Offensive - 7
Fairness - 17
Balance - 6
Strategy - 3
Creativity - 10
Effective Char Use - 13
Judge's Discretion - 3

Grammar/Spelling: - 5
Defensive - 10
Offensive - 10
Fairness - 20
Balance - 10
Strategy - 5
Creativity - 15
Effective Char Use - 20
Judge's Discretion - 5

Sub Total
81
66
100
Migs

Grammar/Spelling - 3
Defensive - 6
Offensive - 8
Fairness - 16
Balance - 6
Strategy - 4
Creativity - 13
Effective Char Use - 17
Judge's Discretion - 5

Grammar/Spelling - 3
Defensive - 6
Offensive - 7
Fairness - 17
Balance - 6
Strategy - 4
Creativity - 11
Effective Char Use - 16
Judge's Discretion - 5

Grammar/Spelling: - 5
Defensive - 10
Offensive - 10
Fairness - 20
Balance - 10
Strategy - 5
Creativity - 15
Effective Char Use - 20
Judge's Discretion - 5

Sub Total
78
75
100
Total
159
141
200
---
Oli/Ryder successfully defends their title. No changes to be made.

"You need me to survive. Which is why you're not letting me go." Migs
Community content is available under
CC-BY-SA
unless otherwise noted.