Potions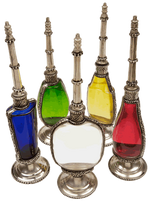 Potions
To stop the heart beating (killer cocktail)
a pinch of oleander
a pinch of Jimson weed
a pinch of blood root
a pinch of hollyhock seeds
Grind to a fine powder and take with the juice of cranberries. Whoever takes it can be revived by C.P.R. (cardiopulmonary resuscitation), but it has to be done within four minutes to avoid brain damage.
To turn humans into animals
margarita salt
pouch of feathers
not named herbs
Add salt to feathers and herbs and recite the spell.
To contact the dead
6 candles white and purple
some burnings
cinnamon
frankincense
sandalwood
white cloth
Put white cloth on a table or altar, place candles and burn the other ingredients.
To shape-shift into an animal
cinnamon sticks
candles
comfrey and nettles
boiling water
Pour boiling water over a handful of comfrey and nettles light candles.
Look into the flames and concentrate on an animal you picked. Chose an animal you easily identify with for a start Think of the qualities of this animal and sense for these qualities in yourself. Anoint forehead, hands and feet with the infusion. Burn the cinamon stick and recite the spell.
Potion Ingredients
Aconite
Acromantula venom
Agrippa
Angel's Trumpet
Antimony
Armadillo bile
Ashwinder egg
Asphodel
Bat guano
Billing's Root
Beer Root
Burdock Root
Blood
Blood root
Baneberry
Bat spleen
Bat wings
Beetle eyes
Belladonna
Bezoar
Bicorn horn
Billywig sting
Billywig sting slime
Boom Berry
Boomslang
Boomslang skin
Bouncing Spider Juice
Bubotuber pus
Bulbadox juice
Butterscotch
Crickets
Cardamom
Cockle Shells
Cat hair
Caterpillar
Cherry
Chicken Lips
Chinese Chomping Cabbage
Chizpurfle carapace
Cinnamon
Cockroach
Croakoa
Crocodile heart
Demon Flesh
Daisy
Dandelion root
Deadlyius
Death-Cap
Dittany
Doxy egg
Dragon blood

Dragon horn
Dragon liver
Dragonfly thorax
Eye of Newt
Elm Bark
Eagle owl feather
Eel eye
Exploding Ginger Eyelash
Feathers
Frankincense
Fairy wing
Flesh
Flitterbloom
Flobberworm Mucus
Fluxweed
Flying Seahorses
Frog brain
Giant Purple Toad wart
Ginger
Goosegrass
Graphorn horn
Griffin claw
Holy Thistle
Hollyhock seeds
Haliwinkles
Honeywater
Horned slug
Horned toad
Horse hair
Ice pop
Jimson weed
Knotgrass
Lavender
Lacewing fly
Leech
Leech juice
Lionfish
Lionfish spine
Lobalug venom
Lovage
Mandrake Root
Myrrh Bark
Mimosa
Mercury and Mars
Moondew
Moonseed
Moonstone
Nettle
Newt
Nux Myristica
Oleander
Octopus Powder




Pig's feet
Peacock feathers
Peppermint
Pickled Slugs
Pomegranate juice
Pond Slime
Porcupine quill
Puffer fish
Pus
Rosemary
Rat spleen
Rat tail
Rose thorn
Rotten egg
A whole Rose
Ragged Robin
Salt
Sprig of Cypress
Sal Ammoniac
Salamander blood
Saltpetre
Sardine
Scarab beetle
Scurvy grass
Silver weed
Sloth brain
Snake fang
Snake weed
Sopophorous bean
Spleen wart
Stag horn
Star Grass
Star thistle
Sulphur
Syrup of Arnica
Thyme
Toad flax
Valerian
Venomous Tentacula leaf
Vinegar
Wartcap Powder
Wartizome
Wiggenbush bark
Wiggentree
Wiggentree bark
Wormwood
Wormwood essence
Yarrow root
Community content is available under
CC-BY-SA
unless otherwise noted.