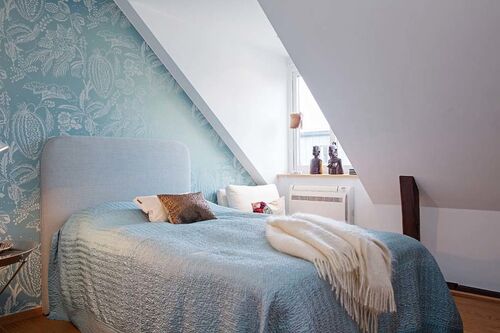 Kitty converted and utilised the attic of Persephone's Cabin into her bedroom. The once-simple white-walled room was ornamented with the same wallpaper from her bedroom in her old home for nostalgia's sake, and she found no other design and colour that brought her comfort and inspiration when she wanted to draw about her old life. On her window sill rests wooden figurines carved by her grandmother, her namesake, from the abundance of trees on her farm. Her window offers a great view of the camp but it is still too narrow for Kitty's liking. At her leisure, she pushes aside the wooden statues that sit on the sill and uses the window as her way out onto the rooftop: her favourite vantage point for drawing.
Not shown in the picture are her wardrobe and bookshelves. The large, white armoire sits opposite her bed, carrying her clothes and a small rack for her weapons. Her bookshelves beside her bed hold multiple books in Ancient Greek to do with the mythology that she spent her first months at camp dutifully studying; books on herbal medicine and first-aid manuals; and books about famous artists whose art style she often likes to emulate. There is also an entire shelf turgid with a vast array of thin sketchbooks, about half of which are full of her drawings and are half-folded from being stored in her boots. The rest of her sketchbooks are completely new and have yet to go through that same ordeal.
The doorknob to Kitty's room, when she is not there, is bound to a hook on the wall with vines from the inside, preventing unwanted entry. Only her close and trusted friends are let up into her room and they are only allowed entry when she is there with them. There are beanbags and chairs found on the floor for Kitty and her friends to talk.
Community content is available under
CC-BY-SA
unless otherwise noted.