Time Zones List

Because we have users from all over the world, if you could add your name next to the time zone you are in, it will help us better serve the community as a whole and we'll be able to plan activities more efficiently. If you aren't sure what time zone you are in find your time zone on the clock below.

Time zone

Example locations

Users

UTC-11:00
Samoa, American Samoa

UTC-10:00
Hawaii, Papeete

UTC-9:00
Marquesas Islands

UTC-8:00
Vancouver, Washington (state), Portland, Oregon, Las Vegas, California, Baja California

UTC-7:00
Alberta, Colorado, Arizona, Chihuahua (state), Sonora, Utah

UTC-6:00
Chicago, Costa Rica, Dallas, El Salvador, Guatemala, Honduras, Houston, Manitoba, Mexico City, Nicaragua, Saskatchewan

UTC-5:00
Ottawa, Toronto, Montreal, Boston, New York, North Carolina, Washington D.C., Georgia, Miami, Cuba, Jamaica, Haiti, Panama, Colombia, Continental Ecuador, Peru

UTC-4:30
Venezuela

UTC-4:00
Nova Scotia, Dominican Republic, Puerto Rico, Trinidad and Tobago, Amazonas, Bolivia, Continental Chile, Paraguay, San Luis

UTC-3:30
Newfoundland

UTC-3:00
Rio de Janeiro, São Paulo, Argentina (except San Luis Province), Uruguay, Nuuk

UTC-2:00
Fernando de Noronha, South Georgia and the South Sandwich Islands

UTC-1:00
Azores, Cape Verde

UTC
Iceland, Faroe Islands, United Kingdom, Ireland, Continental Portugal, Madeira, Morocco, Senegal, Ghana, Côte d'Ivoire

UTC+01:00
Albania, Slovenia, Macedonia, Norway, Sweden, Denmark, Germany, the Netherlands, Belgium, Metropolitan France, Switzerland, Austria, Poland, Czech Republic, Slovakia, Hungary, Continental Spain, Italy, Croatia, Serbia, Kosovo, Bosnia and Herzegovina, Tunisia, Algeria, Nigeria, Cameroon, Angola, Kinshasa

UTC+02:00
Finland, Lithuania, Latvia, Estonia, Belarus, Ukraine, Romania, Bulgaria, Greece, Turkey, Cyprus, Syria, Lebanon, Jordan, Palestine, Israel, Egypt, Libya, Mozambique, Malawi, Zambia, Zimbabwe, South Africa

UTC+03:00
Samara, Iraq, Saudi Arabia, Yemen, Sudan, Ethiopia, Somalia, Kenya, Uganda, Tanzania, Madagascar

UTC+03:30
Iran

UTC+04:00
Georgia, Armenia, Azerbaijan, United Arab Emirates, Oman, Seychelles, Mauritius, Moscow, Saint Petersburg

UTC+04:30
Afghanistan

UTC+05:00
Sverdlovsk, Uzbekistan, Pakistan, Maldives, Kazakhstan

UTC+05:30
India, Sri Lanka

UTC+05:45
Nepal

UTC+06:00
Novosibirsk, Almaty, Bangladesh

UTC+06:30
Myanmar, Cocos Islands

UTC+07:00
Krasnoyarsk, Thailand, Vietnam, Jakarta

UTC+08:00
Irkutsk, Ulan Bator, China, Taiwan, Hong Kong, Philippines, Malaysia, Singapore, Western Australia

UTC+09:00
Zabaykalsky, Japan, North Korea, South Korea, East Timor

UTC+09:30
Northern Territory, South Australia

UTC+10:00
Victoria, Tasmania, Queensland, New South Wales, Primorsky

UTC+10:30
Lord Howe Island

UTC+11:00
Kamchatka, Solomon Islands, New Caledonia

UTC+11:30
Norfolk Island

UTC+12:00
Fiji, New Zealand

UTC+12:45
Chatham Islands

UTC+13:00
Tonga

UTC+14:00
Line Islands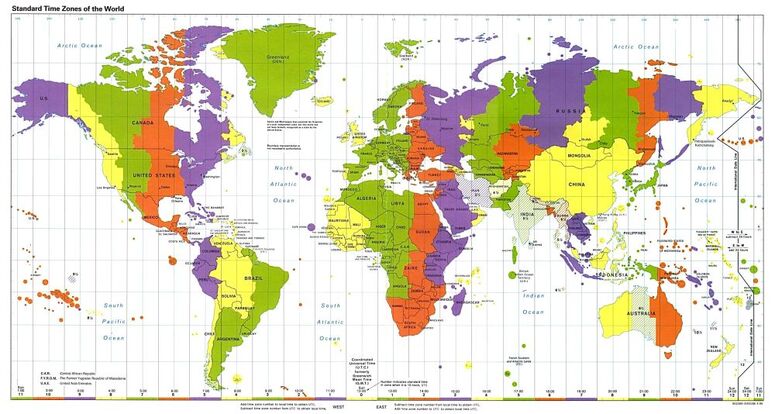 To vote for your favourite here.
To Edit this template go here.
Various polls that take place from time to time, some regularly, some not. If you have a poll you'd like to suggest, contact an
an Admin
.
Favourite God/Goddess
Have an opinion on who the best Gods and Goddesses are and wish to express that opinion in a civilized and competitive manner? Then this contest is for you. Each month 5 Gods/Goddesses are chosen for users to vote on. When the vote ends at the end of the month, the God/Goddess with the most votes will become the next month's God/Goddess of the month. For example, Voting is currently underway this July to determine August's God/Goddess of the month. This contest has no minimum required User Level but also does not dole out individual prizes.
To Edit this template go here.
Users come from all over the world, but for simplicity's sake, we use the time zone of Eastern Standard Time for contests, as that is the time zone that the camp would be located in.
Local time at Camp Half Blood on Long Island New York is Friday, 3 July 2:20 pm (UTC -5)
---
To see the Dept Breakdown go here.
To Edit this template go here.
Bureaucrats

Administrators

Rollbacks

To Edit this template go here.
Welcome to Camp Half-Blood Role Play Wiki! Here you can create your own character, then use him or her to join us on the wiki! If you haven't put in a claim yet, you should see the guide page to find out how.
See rules
here
.
To Edit this template go here.
Community content is available under
CC-BY-SA
unless otherwise noted.