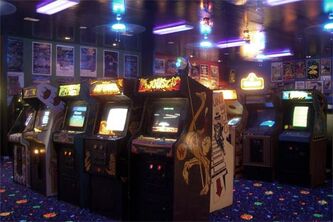 Here inside the movie theater you find an arcade room upstairs of the main lobby.
Prices
$0.50 a game
Games
Dungeons & Dragons: Shadow Over Mystara
Sinistar
Gorf
Frogger
OutRun
After Burner
Rolling Thunder
Arkanoid
Tetris
Shinobi
Bubble Bobble
Ivan "Ironman" Stewart's Super Off Road
Wizard of Wor
Mr. Do!
Operation Wolf
Robotron: 2084
Double Dragon
Bust-A-Move
The Simpsons
Mortal Kombat II
Tempest
Mortal Kombat
Battlezone
Time Pilot
Tapper
Golden Tee Golf
Donkey Kong Jr.
BurgerTime
Dig Dug
Defender
Joust
X-Men
Golden Axe
Elevator Action
Centipede
Space Invaders
Rampage
Punch-Out!!
Teenage Mutant Ninja Turtles
Tron
NBA Jam
Galaga
Pac-Man
Gauntlet
Star Wars
Spy Hunter
Donkey Kong
Ms. Pac-Man
Dragon's Lair
Street Fighter II: The World Warrior
Community content is available under
CC-BY-SA
unless otherwise noted.