The Nearby Town is in Ruins!!!

The war between Camp Half-Blood and The Champions of Othrys has brought irreparable damage to the nearby town. Because of this, this location is no longer conducive for roleplaying. Please refrain from doing so on this page.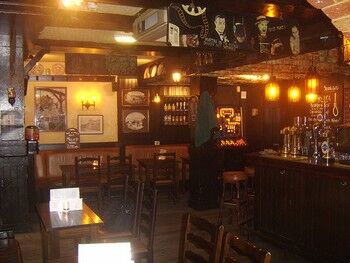 About
O'Brien's pub was opened in the 80s for UK immigrants. It is now run by Kelton O'Riley and his two sons, Torin and Aiden.
Food
Beer
Rum, Whisky & Vodka
Non-Alcoholic

Soup of the day - $4.95
Cheese Burgers - $3.75
Shepherd's Pie - $4.50
Fish 'n' Chips - $2.50

All beers are $4.00 per pint.

Imported Beer:

Guinness - Ireland
Belhaven - Scotland
Murphy's Irish Sout - Ireland
Oetinger - Germany
Hansa - Norway
Molson Canadian - Canada
Labatte - Canada
Fort Garry - Canada


Local Beers:

Samuel Adams
Budweiser
Bud Light
Coors
Corona
Pabst Blue Ribbon
Miller

Fireball Cinnamon Whisky
McCarthy's Whisky
Heaven Hill Vintage
Bacardi
Smirnof

Coffee - $2.00
Soft Drinks - $1.50
Water - Free!

For those who wish to RP as the lovely bartenders, the template names are "Aid" and "Torin". This is an RB+ right only! Meaning: Only Rollbacks, Admins and B-Crats may use them!