The Nearby Town is in Ruins!!!

The war between Camp Half-Blood and The Champions of Othrys has brought irreparable damage to the nearby town. Because of this, this location is no longer conducive for roleplaying. Please refrain from doing so on this page.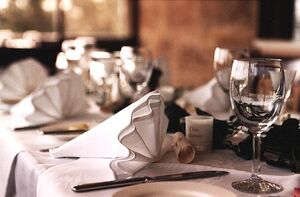 MENU
Lunch/Dinner
Les Potages
Le potage du jour
Soup of the day $4.95
La soupe a l'oignon gratinee
French onion soup with Swiss cheese, gratinee $7.25
La bisque de homard
Lobster bisque with a touch of brandy $8.50
Les Salades
La salade verte
Green salad $4.95
La épinards à la vinaigrette de Framboise
Spinach salad with raspberry vinaigrette $6.50
Les Hors d'Oeuvres
Le saumon fume, sauce a l'aneth
Smoked salmon served with dill sauce $8.95
Le pate du chef
Chef's pate with croutons, garnished $7.50
Dishes served with salad
Omelette au fromage
Cheese omelette $11.95
Omelette aux champignons
Mushroom omelette $12.95
Our Special of the Day Served with Soup or Salad $17.50
Entrees
Filet de sole meunière
Filet of sole sautéed with lemon and parsley $15.50
La bouchée aux fruits de mer
Pastry shell filled with seafood, served with vegetables $18.95
Le poulet grille aux fines herbes
Grilled chicken breast marinated with herbs and lemon $14.95
Les medaillons de veau forestiere, sauce madere
Medallions of veal with mushrooms in madeira sauce $19.95
L'entrecote sauce bordelaise avec Portobello
Grilled Angus striploin in a brown sauce and Portobello mushroom $20.95
Petits tournedos aux poivres vert
Beef tenderloin medallions flambeed with cognac, in green peppercorn sauce $21.95
Les Poissons
Le filet de sole amandine
Filet of sole sautéed, sprinkled with almonds in a lemon butter sauce $16.95
Le filet de sole sauce mandarine
Poached filet of sole with mandarine-flavoured sauce $17.50
Le filet de saumon grille au fines herbes
Grilled marinated salmon filet with fresh herbs, sweet red pepper and lemon $18.95
Les petoncles sauteed a la Nicoise
Scallops flambeed with pernod, mushrooms and delicate curry sauce $21.95
Les gambas grillees, Côte d'Azur
Grilled tiger shrimp in garlic, spices and white wine sauce $27.95
Desserts
Crème brûlée
Vanilla custard topped with caramelized brown sugar $9.00
Profiteroles au chocolat
Olympic Mountain Vanilla Ice Cream-filled cream puffs, topped with chocolate sauce $9.00
Poire Belle-Hélène
Poached Pear, Olympic Mountain Vanilla Ice Cream and warm chocolate sauce $8.00
Mochaccino Mousse
Chocolate and coffee mousse, topped with white chocolate crème. Sablé Breton $10.00
Café Gourmand
Single espresso with a sample of four desserts $9.00
Soufflé au Grand Marnier
Classic Grand Marnier Soufflé $10.00
Assiette De Fromages
Plate of five assorted Cheese served with fresh fruit $14.00
Community content is available under
CC-BY-SA
unless otherwise noted.