This character belongs to DrXax
Nove Stark ~ Son of Apollo

He looks up to you and laughs "What's up?"

Character's Bio


 Age: 19  Height: 6'03"  Weight: 181 lbs.
 Sexuality: Bisexual  Relationship Status: Single
 Birth Place: Chicago, Illinois  Main Weapon: Crossbow and Sword
 Accent: Neutral


Character's Powers

 ====Offensive====

Children of Apollo have the ability to conjure weapons out of pure light which can be used for combat; however, only one weapon can be conjured at a time and it cannot be bigger than the one who conjured it.
Children of Apollo have the ability to focus an intense beam of light which will burn anything it touches.

Defensive

Children of Apollo have the ability to create a protective dome of solid light around them which will defend them from attacks for a short time.
Children of Apollo have the ability to quickly heal minor wounds and slowly heal major, but not fatal, wounds.

Passive

Children of Apollo are innately proficient archers.
Children of Apollo innately heal faster than the average human.
Children of Apollo feel stronger during the day, empowered by the sun.
Children of Apollo become slightly empowered when they are protecting those younger than them, as their father is the god of protection of the young

Supplementary

Children of Apollo are able to use their voices to sing or simply yell at such a high pitch that it temporarily deafens anyone nearby, but it has the disadvantage of not differentiating between enemy or friends, the longer the pitch is maintained, the more energy is drained.
Children of Apollo can teleport themselves by merging their body with sound waves and travelling along them. Which could be called "sound-travel". To do so, there must be source of sound at where they're leaving and going to. Like someone's singing or any device that plays music. The user must be able to hear the source of sound they're traveling to. The further traveled, the more energy drained.
Children of Apollo have the ability to create temporary light sources, similar to concept of a flare, which will alight an area or blind enemies for a short time.
Children of Apollo can curse someone to sing loudly for a fair amount of time, the target can fight and operate while singing. But they cannot hide and could suffer from a sore throat over time.

3 Months After Character is Made

Children of Apollo have a degree of control over diseases and plagues, but not to the extent that they can cause death. They also have control over infections, but not to the extent that they can cause death. They can cause a person to temporarily break out in hives, rashes, and boils. They can also cause a person to feel overcome with flu-like symptoms such as nausea, vomiting, indigestion, congestion, sore throat, etc for a short amount of time.

6 Months After Character is Made

Children of Apollo can create massive waves of heat and radiation, hindering others around him, but rendering him/her unable to move. The more heat generated, the harder it is for the user to recuperate after this power is used. If weakened enough, (s)he will have a hard time moving and staying conscious.

9 Months After Character is Made

Children of Apollo have the ability to shed their flesh and turn into a purely plasmic state for a short time and while in this state, the user is granted flight, immune to all attacks, receive a boost in their already existing photokinetic abilities and anything they touch is intensely burned; however, once the user changes back they will be extremely drained, nauseated and immobile for a long time.

Traits

Most children of Apollo are experts at basketball and other missile weapons or games.
Since Apollo is the God of Music, his children are natural musicians and singers. Able to master any instrument instantly and learn any song with ease.
Since Apollo is god of prophecy and oracles, his children are innately better at interpreting prophecies than others.
Children of Apollo can grow up to become great doctors in any field of medicine.
As Apollo is the god of protection of the young, his children are often inclined to protect and defend those younger than them.
Children of Apollo are usually in better moods during the day and enjoy waking up early.

Owned by:

Xax

~ Posted on: {{{2}}}
Personality
He is normally pretty serious and a bit shy when he is with strangers, when he is with his friends, he is really cool and out-going. He is an excellent leader, and is able to take all people's ideas, not just his. He is very short-tempered, any little leak of emotion, and he will start yelling of anger. 
History
Parents Meeting: Helen was a beautiful young journalist in "Mysteries". She would always look for things that weren't at all normal, such as unusual bright light stripes in the sky at midday. She even made a full article about them, but nobody seemed to see them. She was criticized as a liar. Little did she know, that those stripes were Apollo's chariot, in other words, Helen could see through the mist. One day, Apollo, after watching her amazement and curiosity, went to visit her, disguised as a extra-normal stuff geek, he presented himself as Andrew. They got to know each other, and fell in love. She was amazed by him, since he could also see those light stripes. They dated for some time, and Andrew finally invited her to a really formal restaurant. She drank too much wine, and ended with Andrew in the bed doing "it". 
When she got the news that she was pregnant, she told Andrew immediately, but he just disappeared "mysteriously" (as Helen liked it) at the next day. She tried to forget about it, but she would still continue to be a journalist, and watch as the stripes flew through the sky. One day, when she was asleep, she had a dream:
"Hi, Helen, I'm Andrew, or should I say Apollo? Yes, I'm Apollo, god of music, poetry, healing, light etc. etc. Which means, the lights you see in the sky, are really my chariot, never stop looking at them, they will bring you hope. Our son, will be a demigod, which comes with great power, but great danger as well, may monsters will attack him. I don't know if you'll believe me, but please do. Take care of him and give him these two gifts I got for m when the time is right." He showed two wristbands, one red and one gold. "He'll just need to rip them off, and a different weapon will activate for each of them. They're just for protection. When the attacks happen, you must send him to Camp Half-Blood in Long Island, there, he will train and become stronger. Please trust me Helen, I love you. Remember our light."And with that, the dream ended.Helen woke up with cold sweat on her forehead, and with one wristband in each hand. She named her son November, since that's the month when she met Andrew.
Early Childhood: November had a happy childhood. He would play around with his friends, and make up some incredible stories to imagine, and play with those stories's as a base. His mom would always read him at night, everyday, even though he would grow up, Helen would choose more complex books from time to time. He hated reading, but loved writing.
He also loved music, when he was 5, he started to play the piano. When he was 7, he played the violin, and when 8, the guitar. He started to compose his own songs, they were short, but happy. When he was 9, he entered a junior-high story contest, and surprisingly, he won.  He wasn't really smart at school, but he loved all types of literature. 
First Monster Attack: When he was 11, Helen gave him the two wristbands, she told him how to use them, and when to use them. One unfortunate day, with 12 years, while walking with Helen toward the grocery store, a small hellhound came toward him. "Rip off the wristbands now!!" Helen screamed. He did as ordered, and a crossbow appeared in his left hand, and a sword in his right one. The dog pounded on him, but he got to shoot an arrow, barely hitting the hellhound on the shoulder. He got up as fast as he could and stabbed the hellhound with the sword in the neck, and it  turned into dust. 
Since Helen saw, how November could "easily"(not really) kill monsters, she decided to still keep him home, for as long as she could. The next year, when he was 13, a Fire Breathing Horse attacked him, but this time, he got to kill it, but with major gashes and burns. When Helen saw him, she was really worried, so she took him to the hospital. He stayed there over th night, and in the morning when he woke up, Helen was amazed, most of the gashes had healed, and the burns were extremely lower, probably a blessing from Apollo, or even his own involuntary powers. Helen told him to pack, so he did so and the next day in the morning, they went toward camp.
Helen drove him to camp, and he stayed there year-round, but then he started to feel sad, and homesick, so he returned home. Since he had trained much, he was better with his weapons. When he returned, Helen had packed everything to move to Austin TX. They moved, and when he got there, when he was 15, a harpie attacked him. He got to kill her by shooting a first arrow to her left wing, and then, while she fell from the sky, an arrow in the chest.
He started being popular in the school because of his looks which he didn't like. His only true friend was Kirk Kent, a kind of geek, but really cool, and a bit shy. He had another attack at 16, but this time, a giant scorpion. I got to kill it, by cutting the tail first, and then impaling the sword in its head.
Going to Camp:
Then, his life changed, an English girl named Aria came to school. They would hang out together, and they became best friends. But one day when he was still sixteen, when he was walking in the streets with Aria, two harpies came, and both of the fought like a pre-made team. They got to kill them both easily. Then they talked and discovered that each were demigods. He then told her about camp and she suddenly fainted. He carried her toward her house (mansion, which wasn't that far) with help of Kirk, who was casually in the way home and lay her in her bed. November talked with Sean, Aria's stepfather, and a friend of his and he explained Aria's nature of being a demigod, and told him about camp. When Aria woke up, Sean had agreed for her to go to camp.
They went off in an airplane, and when they were in Long Island, they took a cab all the way through a mlie from camp, so the taxi driver wouldn't be suspicious. They walked until they found an empousa, and killed her, but she left him a gash in his upper arm. After that, they got to camp, and November was claimed as a son of Apollo.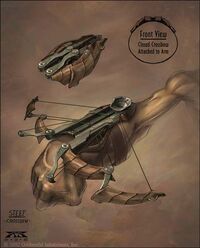 Weapons
One handed crossbow in left hand, and a one handed sword on the right hand. (Both CB)
Powers
Offensive
Children of Apollo have the ability to conjure weapons out of pure light which can be used for combat; however, only one weapon can be conjured at a time and it cannot be bigger than the one who conjured it.
Children of Apollo have the ability to focus an intense beam of light which will burn anything it touches.
Defensive
Children of Apollo have the ability to create a protective dome of solid light around them which will defend them from attacks for a short time.
Children of Apollo have the ability to quickly heal minor wounds and slowly heal major, but not fatal, wounds.
Passive
Children of Apollo are innately proficient archers.
Children of Apollo innately heal faster than the average human.
Children of Apollo feel stronger during the day, empowered by the sun.
Children of Apollo become slightly empowered when they are protecting those younger than them, as their father is the god of protection of the young
Supplementary
Children of Apollo are able to use their voices to sing or simply yell at such a high pitch that it temporarily deafens anyone nearby, but it has the disadvantage of not differentiating between enemy or friends, the longer the pitch is maintained, the more energy is drained.
Children of Apollo can teleport themselves by merging their body with sound waves and travelling along them. Which could be called "sound-travel". To do so, there must be source of sound at where they're leaving and going to. Like someone's singing or any device that plays music. The user must be able to hear the source of sound they're traveling to. The further traveled, the more energy drained.
Children of Apollo have the ability to create temporary light sources, similar to concept of a flare, which will alight an area or blind enemies for a short time.
Children of Apollo can curse someone to sing loudly for a fair amount of time, the target can fight and operate while singing. But they cannot hide and could suffer from a sore throat over time.
3 Months After Character is Made
Children of Apollo have a degree of control over diseases and plagues, but not to the extent that they can cause death. They also have control over infections, but not to the extent that they can cause death. They can cause a person to temporarily break out in hives, rashes, and boils. They can also cause a person to feel overcome with flu-like symptoms such as nausea, vomiting, indigestion, congestion, sore throat, etc for a short amount of time.
6 Months After Character is Made
Children of Apollo can create massive waves of heat and radiation, hindering others around him, but rendering him/her unable to move. The more heat generated, the harder it is for the user to recuperate after this power is used. If weakened enough, (s)he will have a hard time moving and staying conscious.
9 Months After Character is Made
Children of Apollo have the ability to shed their flesh and turn into a purely plasmic state for a short time and while in this state, the user is granted flight, immune to all attacks, receive a boost in their already existing photokinetic abilities and anything they touch is intensely burned; however, once the user changes back they will be extremely drained, nauseated and immobile for a long time.
Traits
Most children of Apollo are experts at basketball and other missile weapons or games.
Since Apollo is the God of Music, his children are natural musicians and singers. Able to master any instrument instantly and learn any song with ease.
Since Apollo is god of prophecy and oracles, his children are innately better at interpreting prophecies than others.
Children of Apollo can grow up to become great doctors in any field of medicine.
As Apollo is the god of protection of the young, his children are often inclined to protect and defend those younger than them.
Children of Apollo are usually in better moods during the day and enjoy waking up early.
Relationships
| | | |
| --- | --- | --- |
| Name | Relation | Feelings |
| Apollo | Father | Doesn't know him, but would like to meet him someday. |
| Helen Stark | Mother | She loves her with all his heart, and is thankful toward her |
| Aria Darkclock | Best Friend | She is really cool and friendly, definitely my best friend. |
| Jack O'Brien | Boyfriend | He is really cute and delicate. Shy but awesome. I may really love him... |
Images
,
Community content is available under
CC-BY-SA
unless otherwise noted.