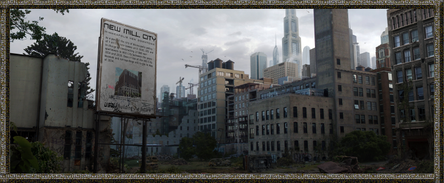 This arena is essentially a small abandoned city, overgrown with vegetation and some of the buildings crumbling in decay.
Located in the middle of the arena is a small abandoned park, with a pond
This arena has all the typical things you'd find in an abandoned overgrown city, everything from flat surfaces to small buildings to tall skyscrapers, some crumbling, some still standing, lots of dark places to hide, including an underground subway tunnel. There are abandoned cars, and things can still be found within the buildings, perhaps even a few stray cats or dogs, or some smaller creatures such as rats and spiders.
The arena is open to the sky and elements
Ember

~

Daughter of Zephyrus 雲


"A man who shows all his capabilities at first glance will endure more expectations he cannot achieve; however, he who arises at the most important moments will outshine the sun."

*waits for her opponent with a breastplate that is durable and light enough to not slow her down, twin gauntlets, and her kusarigama. She scans and studies the arena while waiting*

Character's Bio


 Age: 18  Height: 5'7  Weight: 118 lbs
 Sexuality: Heterosexual  Relationship Status: Single
 Birth Place: New Zealand  Main Weapon: Kusarigama
~Clouded Perfectionist/ Lt. of Zephyrus' Cabin



Character's Powers

 Powers of a daughter of Zephyrus:

Offensive

Children of Zephyrus have the ability to create gusts of wind, however, the stronger the gust, the more it drains them.

Defensive

Children of Zephyrus have the ability to create a dome shaped torrent of wind, roughly two to three time the size of the user, which can be used to block attacks for a very short time.
Children of Zephyrus have the ability to create a small tornado, about the size of the user, which can be used to block projectile attacks for a short time.
Children of Zephyrus have the ability to create large clouds which obstruct vision of everyone else.

Passive

Children of Zephyrus are stronger in the spring months.

Supplementary

Children of Zephyrus have the ability to hover or fly, however, the longer they fly the more it drains them.
Children of Zephyrus have the ability to call upon the winds to speed their movements or attacks; this can also be used oppositely to slow the movements or attacks of others.

3 Months After Character is Made

Children of Zephyrus have the ability to create a massive rainstorm which will begin to downpour and flood the immediate area, for a short time.

6 Months After Character is Made

Children of Zephyrus have the ability to increase the water density of clouds, enabling them to knock people over with them or even ride atop them; this significantly drains the child of Zephyrus.

9 Months After Character is Made

Children of Zephyrus can shed their flesh and turn into pure clouds, while in this state they are immune to attacks, can travel long distances in a fraction of the time, can knock enemies off their feet, the longer they maintain this form, the more energy is drained, and the weaker they become.

Traits

Children of Zephyrus are generally left handed.

Owned by:

Broken

~ Posted on: {{{2}}}
[[|Chastity]] -Nymph
-Wine Nymph
 – 13:55, February 2, 2013 (UTC)

*She enters the arena with just a regular breastplate on, and no weapon.She surveys the area and rolls her eyes*
Ember

~

Daughter of Zephyrus 雲


"A man who shows all his capabilities at first glance will endure more expectations he cannot achieve; however, he who arises at the most important moments will outshine the sun."

Someone's quite...confident and late *smirks* Make the first move.

Character's Bio


 Age: 18  Height: 5'7  Weight: 118 lbs
 Sexuality: Heterosexual  Relationship Status: Single
 Birth Place: New Zealand  Main Weapon: Kusarigama
~Clouded Perfectionist/ Lt. of Zephyrus' Cabin



Character's Powers

 Powers of a daughter of Zephyrus:

Offensive

Children of Zephyrus have the ability to create gusts of wind, however, the stronger the gust, the more it drains them.

Defensive

Children of Zephyrus have the ability to create a dome shaped torrent of wind, roughly two to three time the size of the user, which can be used to block attacks for a very short time.
Children of Zephyrus have the ability to create a small tornado, about the size of the user, which can be used to block projectile attacks for a short time.
Children of Zephyrus have the ability to create large clouds which obstruct vision of everyone else.

Passive

Children of Zephyrus are stronger in the spring months.

Supplementary

Children of Zephyrus have the ability to hover or fly, however, the longer they fly the more it drains them.
Children of Zephyrus have the ability to call upon the winds to speed their movements or attacks; this can also be used oppositely to slow the movements or attacks of others.

3 Months After Character is Made

Children of Zephyrus have the ability to create a massive rainstorm which will begin to downpour and flood the immediate area, for a short time.

6 Months After Character is Made

Children of Zephyrus have the ability to increase the water density of clouds, enabling them to knock people over with them or even ride atop them; this significantly drains the child of Zephyrus.

9 Months After Character is Made

Children of Zephyrus can shed their flesh and turn into pure clouds, while in this state they are immune to attacks, can travel long distances in a fraction of the time, can knock enemies off their feet, the longer they maintain this form, the more energy is drained, and the weaker they become.

Traits

Children of Zephyrus are generally left handed.

Owned by:

Broken

~ Posted on: {{{2}}}
Chastity: Confidence is key, and strategy. She shoots vines at Ember, hoping to bind her. 
Ember: Let's wait and see dodges them by summoning winds to blow and twist back the vines Chasity to serve as a counter attack or distraction while she immediately heads for the old buildings to hide and doesn't care a bit if Chastity gets hit or whatever. 
Chastity: She growls as she is blown back and, she tries to chase after Ember, while she also tries to force a state of drunkenness on her. 
Ember: Since she already got the head start, she manages to get in a partial crumbling building with her dizzy mind. Once hidden inside, she was able to sight an electric post outside being supported by one string, nearly to its fall; since she is drunk, she has unconsentrated control of her powers and makes a weak air slash. If successful, the post willl cause a small thud and shake on the ground, obstructing Chastity's way and buying Ember some time.
Chastity: The post does fall and obstructs Chastity's way. She growls a bit. 
Ember: In the building, she quickly goes to the top floor/roof and finds a pail half filled with dirty water; she decides to pour the water on the stairway and close the door to again obstruct Chastity. She readies herself for Chastity's arrival by hiding and waiting for her to open the door.
Chastity: *She makes it to the building and starts climbing to the top floor* 
Ember: As she starts to hear footsteps from the creaking wooden floors, she readies the ball of her kusarigama, to fling it towards Chastity once she opens the door.'
Ember/Broken posted last since the deadline of the fight. She wins the fight by default. Congratulations.
Community content is available under
CC-BY-SA
unless otherwise noted.