| | |
| --- | --- |
| | PLEASE READ |
Description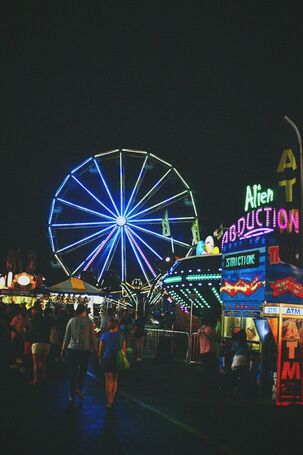 In a considerably large clearing in the forest, the sight and sounds of a funfair stretches to the Cabins - the Spring Funfair is at Camp! Here, you can go on a wide variety of rides, from Bumper Cars to Ghost Trains, there's something for everyone! If rides aren't your speciality there's an arcade with a range of games to play. A great place to socialise, the fair'll be in Camp for a week - don't miss it!
Roleplay at the Spring Fun Fair
Active Spring Fun Fair Roleplays
Type the name you want your page to be and click
Enter the Fun Fair
.
Active Spring Fun Fair Roleplays

<createbox> break=no prefix=Roleplay:Main Forum/Camp Locations/Spring Fun Fair 2015/ preload=Template:PageHeader/Spring Fun Fair buttonlabel=Enter the Fun Fair </createbox>
These are roleplays that are active
and
taking place in the Winter Festival in camp.
Roleplay
Page Creator
Last Edited On
Last Edited By
Archived Spring Fun Fair Roleplays
These are roleplays that haven't been edited in over a month and have been archived. Odds are if it was archived and not deleted it is because at least one of the users is still on the wiki and/or the roleplay is of a reasonable length. (Roleplays with only a few posts on the entire page will be deleted.)
Roleplay
Page Creator
Last Edited On
Last Edited By