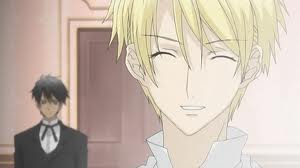 Two hundred year ago, in Spain, the queen was outraged at the king for having concubines, she then was seen by Zeus and was taken to a liking by him. She fell in love and soon found out she was pregnant. She then made love with the king to make it look like Wilfred was her son. After Wilfred was born, the kingdom rejoiced for it's new heir.

Wilfred grew up well, he was multi talented:brains, riches, looks, personality; Name it and this boy's got it, well except cooking...NEVER let him in the kitchen, if you know what is good for you. He was loved and idolized. Since he was the kingdom's heir, he was never allowed to explore the outside; he was caged. His "friends" were all noble's children and all fought for his favor, especially the women; he didn't appreciate this. Wilfred was always kind to his servants and gets mad if anyone dares to call them inferior.
Out of all his "friends," Wilfred only found favor in one of them, which was Lady Annabeth Bloom. They gradually fell in love and Annabeth became the object of jealousy of the women. Annabeth deserved her positions because she was absolutely any man's ideal woman. She was kind to him and they became so close their parents decided for them to marry once of age. Annabeth was also a daughter of Thanatos.
Sadly, he was sent to Camp Half Blood when he was 15. His mother made up excuses that didn't work, she was killed after Wilfred's death when the king found out she was with another man. Wilfred died in a valor way, he was then sent out on a quest, he ended up sacrificing himself for the others and was killed. Down in the Underworld, he was taken a liking by Persephone since he made her laugh like hell, Hades was also happy with him. He was sent to the Elysium and had tons of fun with the heroes he always had wanted to meet. When Annabeth committed suicide because she didn't want to marry the man her parents chose, he soul was immediately reincarnated, which terribly made Wilfred sad secretly.
After 200 years of Wilfred's uncomplaining and happy attitude, Persephone asked Hades to give Wilfred another life, make him immortal, for he deserved it. Fact is, he saved children's of the Underworld, a daughter of Persephone and Hades, and son of Thanatos. He was then changed into a lightning nymph and sent to camp to live a life he had never lived. He must come back every winter starting next year to accompany and delight Hades and Persephone in the Underworld, cheering them up.
Hometown
Spain

---

Religious Views
Greek Gods

---

Firsts
Kiss = None
Love= Lady Annabeth

Community content is available under
CC-BY-SA
unless otherwise noted.