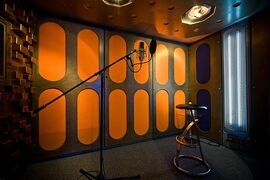 The Recording Studio is located aside the Apollo's Cabin on Camp Half Blood. It was a gift from Apollo to his children. Here the Apollo Cabin and other demigods with permission from the Apollo Cabin can record music and make records. It is a small building with a big sign saying "Apollo Recording Corps". Inside is a sound booth and an editing panel, inside the sound booth is an enchanted cupboard that can pull out any instrument.
This is not only for Apollo kids. If you are interested in playing please get permission from an Apollo kid, enjoy. Also, the studio has a security system to stop vandalism.
CEO
Adam Solarius
Manager
Music Editor
Additional Help

If you want to participate, put your name here
The Kings of Kings
The Street Motion Muses
Divergence
If you recorded a CD, put it here.
R&B Covers by Deirdre Hunter
Pop Covers by Deirdre Hunter
Suzanne Vega Cover Album by Marie van der Pol
Idealistic Cover (By Digitalism) By Adam Solarius
The Band Perry Cover by Alanis Davies
Ellie Goulding Cover by Lyra Duran
8-Bit Tuna Roll by Digital Sushi
2 single Elliot Yamin Tracks by Nolan Collins
Panic! (Panic! At the Disco cover) by Logan Weston
The Graveyard by Monster Mayhem

Crazy Train cover by Dorian Solrus and Tyler Drape.

Seven Covers by Troy Lee

Heart Attack Cover by Maia Ashman and Kylie Shay



J-Pop Covers by Hoshiko Sato
R&B Covers by Domonick Farmer and Theós Hampton. Produced by Lena Charleston.
Community content is available under
CC-BY-SA
unless otherwise noted.