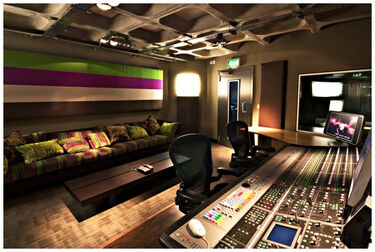 The Camp Radio Station is apart of the The Recording Studio. It was a gift from Apollo to camp as he thought the campers didn't have enough music in their lives. Here the camp DJ's, Lyric and Mitchell Thanes, record their radio show and play music on the station. It is a small room with several sound boards, iPads, mini fridge for the workers, couch and a handfull of vile cabnets.
DJs
Lyric
(Girl-Jassy's)
Mitchell Thanes
Manager
- (Reserved for Raid :3)
Music Editors
Additional Help
WIP
How the Song of the Month works: Each month, the song will change depending on the most requested song for the weekly playlist. If there is more than one song that is popular, the DJs will pick.
If you want to make a dedication, Please put it in the comments (Note: Not all dedications will be added).
Here's a Dedication from Kasey Mendes for Everett Summers - "Thanks for making me smile" - Song: Smile by Avril Lavigne
[[|Lyric]] -Child of none
-The DJ Music Nymph
Age= Immortal     Height= 5'7     Weight= 125 lbs     
Sexuality= Straight     Relationship Status:= Single
-Health Status= Healthy     Nationality=      Species= Music Nymph
-Main Weapon= Bow and Arrows



Hey guys! What's up? DJ Lyric here just wanting to say a few words. I want you guys to go out, listening to some music, anything, and just sing and dance! I don't care if your the worse singer or dancer. It doesn't matter, go be yourself, be loud and dance your heart away