Hello!
Hi! My name is Arabellita X but just call me Arabella or Ara. But i'm warning you, never, EVER all me Bell, Bella or Bellita cause i swear i will skewer you on a knife and roast you over a Mexican flame.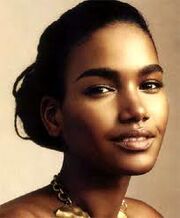 I am one of the awesomest people you'll ever meet (it's true) - but you're not really meeting me are you? Well, I am really awesome, ask anyone one who (actually) knows me. It may seem that i am a little up myself, and maybe that's true, but (i think) i am an awesome person to know.
I LOVE LOVE LOVE pictures so you'll find a lot on this page (Not yet but soon, very soon).
The picture on the right (or is it the left?) is NOT me but that is what i want to look like when i'm, like, 25. That gives you a few clues as to what i look like, i have brown skin, my hair is not like that, it is short - shoulder length- and dark black/brown.
In the future, i either want to work at NASA - but not as an astronaut- or be an author (yes, i know a lot of people want to be the next Rick Riordan too!) or be a lawyer.
So, in conculsion, explore the hidden wonders of my page, and don't be too sad when it ends, you can always talk to me!
Community content is available under
CC-BY-SA
unless otherwise noted.