About Me
Noh.
Badges
"I've fallen for your eyes,


But they don't know me yet,


And the feeling I forget."


I'm in love now.


-

Kiss Me

by

Ed Sheeran
| | |
| --- | --- |
| | Memorable moment are celebrated together, you are my best friend for now and forever, Make me Miss you even more this New Year, Hope this 2012 bring Happiness like last year, whether you far or near, sincerely from me here!! |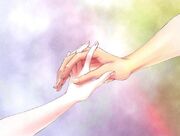 Mel's Friendship
If I could catch a rainbow, I would do it just for you. To share with you its beauty on the days your feeling blue.
If I could build a mountain, You can call your very own. A place to find serenity . A place to be alone.
If I can take your troubles . I would toss them in the sea.
But all these things I'm finding are impossible for me. I cannot build a mountain or catch a rainbow fair. But let me be what I know best at. A friend that's always there.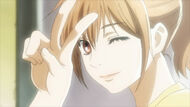 I LOVE YOU




You are like the Sandman who sent me dreams to help my wishes come true, for a wish always begins with a dream. You used your dreamsand to whisk away all of my nightmares and turned them to dreams. Thanks you for all of this and always remember that from this day on and forevermore, you will always be my Guardian.
~Miggy
One Year!!!!

You have been with this wiki for a year now, for having stuck with the Camp Half-Blood Role Playing Wiki for a year, you have earned yourself an extra character spot, that can be used for either BC or Camp! Thank you for your continued support and participation, hope to see you for another year!

-The Administration
Community content is available under
CC-BY-SA
unless otherwise noted.