TOTORO, MY PUPPY! 
TOTORO! My son. My baby. Totoro is a teacup poodle pup, who is still little. Well...He'll forever be little. Just like me :P Anyway, he's plain adorable and we'll never really know if he is a teddy or a puppy. He is named after My Neighbour Totoro, which was my FAV tv show when I was little. Soooo
TOTOROOOOO!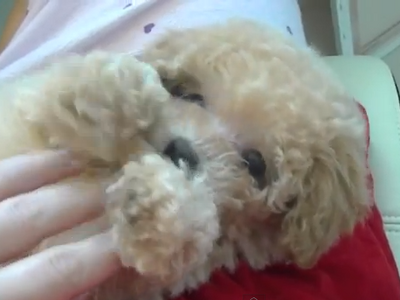 My babyyyyy
Totoroooo
About Me
Hi everyone.
Everyone calls me Mizzy after my middle name 'Mizuki' which I am actually going to be naming a character. So yeah, call me Mizzy, Mizuki or Sheep, or Lil, or Lamb, or...You get my point :P Basically, I'm just going to go by my middle name Mizuki here. Now, because I'm a newbie, I've decided thats really all the personal information I'm going to give out about myself. Well, and that I'm a female. But anyway, about me?
My obsession with the Greek mythology and Roman Mythology started around when I was 9 or 10 and first read percy Jackson. I was OBSESSED! Something about the myths just drew me in. Since then, I was always thinking elaborate stories about demigods and their lives. Naturally, this drew me to CHBRPW. And I am so thankful of that.
Probably the only thing you need to know about me is that I'm the biggest optimist but I'm not naive. I follow a few rules in my life such as:
Be grateful and thankful for what you have. You are lucky. 
Treat others the way you wish to be treated. (Yes, corny, but the message is so important and basic that anyone can do it.)
Never give up hope.
Embrace your inner most child and remember that yes, dreams can come true but you have to keep working towards them.
Hard work beats talent, so always try your best.
Stop thinking about yourself because if you open your eyes, around you, there are people who need your attention more.
Even if you don't particulary like someone, don't show it. Be nice and look further than the cover.
That leads me to don't judge a book on it's cover.
B-E-L-I-E-V-E!
If you don't like something, change it. If you can't change it, change your attitude. - Maya Angelou
No one but yourself shapes your destiny. 
Live in the moment.
And most important of all in my opinion, happiness is not a state to arrive at, it is a manner of traveling.

Anyway, so those are just some of my morals, obligations and rules. As long as you treat me the way you wish to be treated, I HOPE WE CAN BE FRIENDS :D
Perm Reserved Images
Wiki Details
I live in Aussie, so times might be odd. Umm what else... Oh! User:Bachlynn23 has adopted me as her newb for the next 4/5 weeks :P So yeah, Bach is awesome. Ummm if I don't reply for a day, it might be because I'm still in school. Uhh anything else... I won't reply to any rude posts... I'll rp with any others however. This is my first wiki so please if i do something wrong, tell me. And umm yeah :)
Community content is available under
CC-BY-SA
unless otherwise noted.