"My Characters"

I have 1 Major Characters
I have 0 Minor Characters
I have 0 BC Characters
I have 0 Inactive/Missing/Dead Characters
Hello. My real name is Lindsay. I am a 16 year-old-sophomore in the United States of America. I like Percy Jackson, Harry Potter, Glee, Imagine Dragons, Les Miserables (GAH SO AMAZING!) and Taylor Swift. Life is amazing. Amazingly horrible at some points. But still pretty amazing.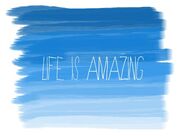 OK enough of my (how do you spell it?) phylosiphing... phlosyphing... 
pyloshiphing... whatever. So... I'm level one now. Yay!!! After FINALLY getting my character claimed, I don't really wanted to do it again. Tired of begging people to check out my claim. Some people have twenty demigod characters. How to do they do that, I have no idea, though.
"When I say I hate you while I'm smiling, I don't mean it. But when I say I hate you while 
I'm glaring, you better run!"~LindsayF"
Community content is available under
CC-BY-SA
unless otherwise noted.