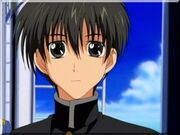 Hi! =3 I'm Loreofwings. I live in Malaysia, far awy from many users except Karikamiya and Mikmak28.
So, as you guys know, I'm an optimist AND pessimist. I'm a sadomasochist. I'm like a child of Janus. =D I'm smart, and I like it when people stay AWAY from my stuff. If you're reading this, BUA, that means YOU. So, if you like me, put me on your friends section and mine. If you would like to leave, you may. But BUA, you were asking for it. You were the one stealing my wallet.
Gravy. Because everything sounds better with gravy. (PA of BUA) 23:33, June 9, 2011 (UTC)
Friends
"You are a Level Five User"

This entitles you to eight demigod camp spots, bringing your total demigod spots to 12 (8 camp 4 BC) which can be swapped around. It also means you have been here at least five weeks since your first character was claimed, and that you may now vote on more as well as run for things like chat mod or rollback. Please do read the

wiki policies

or contact an

administrator

if you have any questions.
Community content is available under
CC-BY-SA
unless otherwise noted.