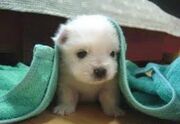 Hi, my name is Paige. I am a pageant queen, like my username implies, not just one of those people who say they are just for attention. Most girls that enter pageants are airheads, girls who don't know how to answer the question correctly, I am the exact opposite. I'm not an airhead, I can answer a simple question. I admire people who have the guts to enter pageants even though they are insecure.
I LOVE the PJO series, my favorite charcater being Annabeth, for her coragious attitude. My favorite God is a tie between Poseidon and Apollo, My favorite Goddess also being a tie between Aphrodite and Persephone. I like the BIg Three, mainly because their stories are amazing, but I love the minor gods that aren't mentioned very often (i.e Boreas, Zephryus, Hypnos).
My hobbies include; shopping, reading, field hockey, basketball, volunteering at animal shelters (I have a little puppy that I love to dress up named Armani), participating in pageants, and cheerleading. Some of my favorite books are; Harry Potter series, Percy Jackson series (well duh), Hunger Games series, The Clique series and the Alphas series.
Characters
[[File:|125px]]

[[|Savannah]] -Child of Melinoe
-Friend of Ghosts
 – 00:59, October 25, 2011 (UTC)

Daughter of Melinoe; currently dating no one, but has feelings for someone...
Cassie -Child of Demeter
-Harvest Princess
 – 00:01, October 27, 2011 (UTC)

Daughter of Demeter; Just got claimed so not dating anyone
Community content is available under
CC-BY-SA
unless otherwise noted.