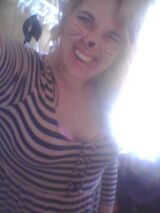 Hiya, my name is Steph, I'm sixteen and I live in Australia. I live in a small country town (population of around 300) with my family (2 younger sisters, 2 younger brothers, and my parents). Sometimes because my town is so out of the way of everything the internet drops out for days on end, so if I disapear abruptly this is likely the reason. 
I love reading, writing short stories and poetry, music, acting, and making art. My passion is storytelling, and alot of what I do revolves around it. I'm a bit mad some of the time, but the best of us are. I enjoy making new friends, but I can be very awkward, so don't mind my awkwardness :) Anything else you might be curious about feel free to ask me 
Community content is available under
CC-BY-SA
unless otherwise noted.