Name:Pilot
Gender:male
Creator: Zephyrus
Owner: Wilbur Carter Fitzgerald
Appearance: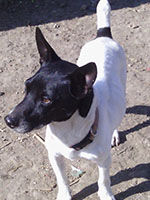 Personality
Freespirited, protective, and loves Wil. Even though he loves traveling, he wil always come back to Will. He is happy and playful too.
History
Zephyrus made him to comfort Wil in the loss of his mother, and befriend him. He fought off a myrmeke for his beloved Wil. Once Wil made is escape, Pilot flew away from the monster. For a while, he was Wil's only friend. He sometimes sleeps with Wil at night, but for the most part, will sleep on Wil's roof. He lives in Wil's home, but because he is always travelling and flying, Wil's aunt, unlce, and cousin hardly notice Pilot.
At camp- Pilot enjoys sleeping in Wil's cabin with him, but when feeling claustrophobic, he will sleep in the forest. He stays in the forest for most of the day.
Type
He is a wind spirit that takes his shape in a dog
Community content is available under
CC-BY-SA
unless otherwise noted.